About Us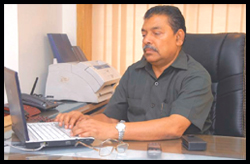 Kalima International is a staffing solution company serving as a pioneer in headhunting since 1982. Kalima Internationalhas been immensely successful in creating a network of highly adept intelligent workforce that can help a company achieve their mission-critical projects and goals. Keeping pace with projects and being on the lookout for the extremely talented individuals has become ever more challenging. Here is where we Kalima come into play to bring the best suited talented workforce for your company.
All of our resources are skillful and come with the experienced years of commended performance. We appreciate the experience that our candidates bring from various industries and we like to leverage it for the mutual benefit of both clients and candidates. We specialize in the field of Construction,Retail, Chemical, Paint & Fertilizer, FMCG, Healthcare, Heavy Machinery & industrial Supplies, Hospitality & Tourism, Oil, Gas & Power, Packaging & Retail, Transportation Services Etc.
In order to compete in business today organizations must strive to access high-performing and highly skilled talent at the same time maintaining the proficiency to instantly adapt to fluctuating market environment. Recruitment is an ever evolving environment and it is crucial to have specializedveterans who truly understand the needs and can change as you grow. Every day we assist our clients and candidates to have an innovative and effective presence in the "job market" and it is our collaborative approach which results in better placements and better service.
Our comprehensive approach to recruitment enables us to attract, engage and deliver talented people aligned to an organization's culture. Strategic in our thinking with a responsive approach to future needs, we think far beyond the customary recruitment process by conducting a thorough decisive test of both our clients and candidates.
Our specialists combine deep industry acumen complemented by an Industry oriented talent pool to source high caliber skilled and unskilled work force. Our experts pride themselves on years of experience and as a result have become recognized as recruitment experts within their specific specialism, consistently making the right connections between skills, culture and roles.
Our Mission
We will transform the way recruitment services are delivered around the sphere, offering clients a unique and superior service, by utilizing leading technology and creating an environment where talented work forcewill game-changers who share our passion for disruptive innovation are given the opportunity to succeed and change their lives.
Integrity
We will be open and honest with ourselves and others
Coherence
We will work as a team and succeed together.
Opportunity
We will inspire, support and invest in our people who will share in our success.
Relentlessness
We are driven to be the best.